Seagate Enterprise Capacity St6000Nm0095 6Tb 7200Rpm Sas 12.0 Gb/S 256Mb 512E Enterprise Hard Drive (3.5 Inch, Exos 7E8 Hdd 512E Sas)
SKU: ST6000NM0095
Regular price
Sale price
$341.57
Unit price
per
Sale
Sold out
Description :
SAS interface designed for servers with compatible disk controllers
Engineered for workloads of 550TB/yr - x10 that of desktop drives
High performance for mainstream data center applications
Enterprise drive for bulk data applications
Robust bulk data storage for a 24x7 workloads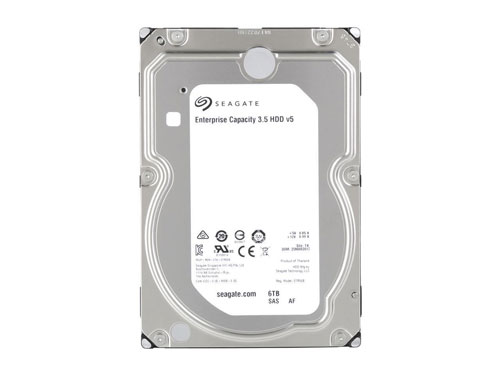 Trusted. Efficient. Versatile.
The Seagate Enterprise Capacity 3.5" hard drive offers high capacity and energy efficiencyt without sacrificing performance for reliable access to bulk storage. Each and every hard drive is validated to ensure performance, stability and reliability in 24x7 operations. This HDD can meet your expansive data growth and is optimized for demanding enterprise data applications.
Enterprise Drive for Bulk Data Applications
Seagate Enterprise Capacity 3.5" HDD supports up to 8TB per drive, offering bulk data storage for data center infrastructures requiring a highly reliable enterprise hard drive. Seagate Enterprise Capacity 3.5" HDD provides cost-effective, reliable access to unstructured data. Built on field-proven 9thgeneration conventional magnetic recording (CMR) technology, the Seagate Enterprise Capacity 3.5" HDD helps to catalyze the datasphere, enabling data center architects and IT professionals to deliver trusted performance, rock-solid reliability, ironclad security and low TCO for demanding 24×7 operations.
Robust Bulk Data Storage for a 24*7 World
Seagate Enterprise Capacity 3.5" HDD is backed by a 2 million hour MTBF rating and support workloads of 550TB per year—10× that of desktop hard drives. With state-of-the-art cache, on-thefly error-correction algorithms and rotational vibration design, the Seagate Enterprise Capacity 3.5" HDD helps ensure consistent performance in replicated and RAID multi-drive systems.
High Performance for Mainstream Data Center Applications
Meet your storage workload requirements in the most efficient and cost-effective data center footprint on the market today. The Seagate Enterprise Capacity 3.5" HDD delivers easy integration into bulk storage systems with 12Gb/s SAS interface options. With userdefinable innovative technology advancements like PowerChoice and Seagate RAID Rebuild , you can tailor your nearline storage requirements for even greater improvements in lowering your TCO.
Enhanced Enterprise Reliability, Data Protection and Security
Advanced security features help protect data where it lives—on the drive. Seagate Enterprise Capacity 3.5" HDD prevents unauthorized drive access and safeguards stored data with security features that include Secure Downloads & Diagnostics, TCG-compliant Self-Encrypting Drive and government-grade FIPS/Common Criteria tamper-resistent hard drive. Seagate Secure drives simplify drive repurposing and disposal, help protect data-at-rest and comply with corporate and federal data security mandates.
Choosing a selection results in a full page refresh.