Msi Geforce Gtx 970 Gaming 4G
SKU: GTX 970 GAMING 4G
Regular price
Sale price
$848.00
Unit price
per
Sale
Sold out
Description :
VR Ready
DirectX 12 Ready
Gamestream to NVIDIA SHIELD
4GB 256-Bit GDDR5
Core Clock 1140 MHz
2 x DVI 1 x HDMI 1 x DisplayPort
1664 CUDA Cores
GTX 970 Gaming 4G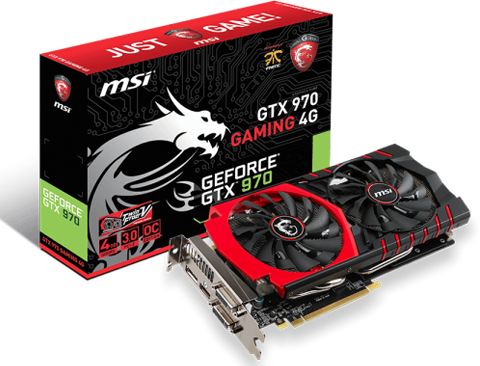 Overview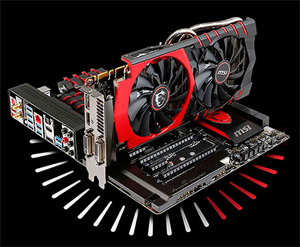 More Performance
MSI GAMING Graphics Cards give you more performance out of the box. Whether it's a pre-overclocked model or you use the Gaming App, you can just get right in the game and enjoy more performance. Overclocking through the MSI Gaming App is covered by warranty to take away your worries. Get in there and start winning!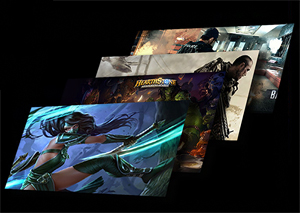 Twin Frozr V - Cooler, Quieter, Better Gaming
With every new generation of GPUs comes more performance. With every new generation of MSI Twin Frozr we give you less noise and heat!. We've listened to all your requests and the new Twin Frozr V is smaller, features stronger fans, generates less noise, keeps your graphics card and its components cooler and matches perfectly with your MSI GAMING motherboard including some funky LED lightning. We've spent 18 months on the development of the Twin Frozr V, including field testing in gaming cafés to ensure the cards have the quality and stability to give you the FPS you need.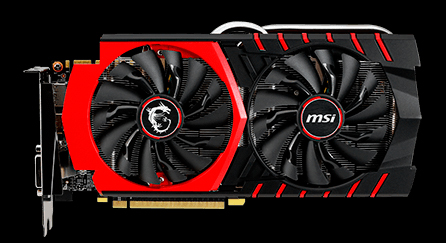 Gaming App
The latest version of the MSI Gaming App is expanded with MSI Scenamax technology (under the EyeRest tab) to provide you easy access to image quality improving technology in the easy comfort of the MSI Gaming App.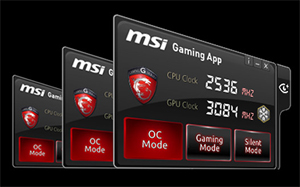 OC Mode
Maximum Performance through higher clock speeds and increased fan performance
Gaming Mode (Default)
The best balance between in-game performance and thermal
Silent Mode
The best environment for minimal fan noise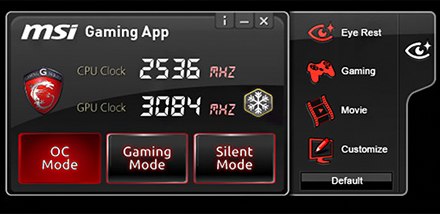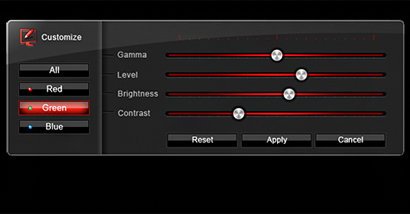 MSI Gaming app EyeRest Tab
Quickly adjust display settings to your visual needs. Expand the tab by clicking on the "eyecon" and select your preferred setting.
Eye Rest Mode
Helps you sleep and rest better by reducing the blue light balance of your screen to let your body acclimatize to the night time.
Gaming Mode
More intense colors and increased contrast lets you live the gaming life as the creators meant it.
Movie Mode
Dynamically adjusts Gamma and Contrast ratios for the clearest movie viewing experience. Easy for Gaming, better for your eyes.

Twin Frozr V
MSI's Twin Frozr series has been the definition of graphics card coolers in the PC industry. Kicking off the dual-fan trend, MSI today stays true to its design offering the best thermal and acoustic performance in its class.
Two powerful 10cm radius Torx Fans provide massive airflow thanks to the new dispersion blade, instantly reducing noise by about 5% compared to previous generation's designs. This reduces temperatures by about 10°C at maximum fan speed compared to the Twin Frozr IV Advanced.
Under those fans lies a massive heat-sink with Airflow Control Technology which covers 90% of the fans diameter. Connected to the GPU is MSI's special SuperSU Architecture which allows the SuperPipes and regular size heat pipes to do their work more effectively.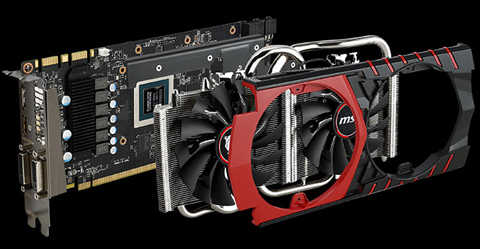 Torx Fan
Brand-new fan design keeps you cool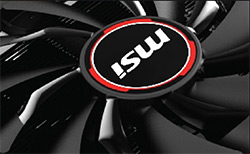 SuperSU Pipe
Increased dissipation efficiency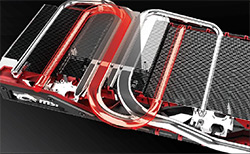 Zero FROZR
Smart cooling, stay quiet.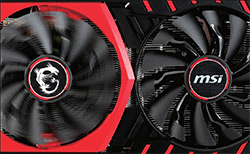 Airflow Control
Improve airflow efficiency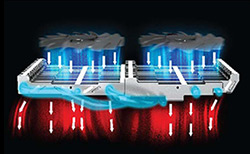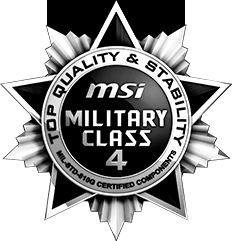 Military Class Components
One of the deciding factors in performance is the quality of the components used. That is why MSI only uses MIL-STD-810G certified components for its Gaming cards because only these components have proven to be able to withstand the torturous circumstances of extreme gaming and overclocking.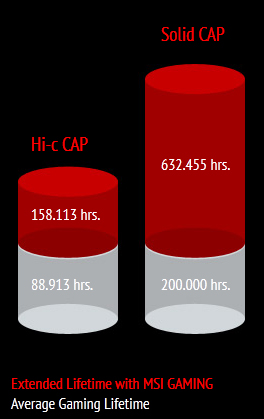 Hi-C CAP
A Hi-c CAP is a very small, but super-efficient capacitor. Besides ensuring enough spacing around a CPU socket to install large coolers, it also allows for 93% energy efficiency. Thanks to Hi-c CAP's MSI mainboards are the most energy efficient in the market.

Super Ferrite Chokes
Super Ferrite Chokes use a Ferrite core that is Super-Permeable. This allows the Super Ferrite Chokes to run at a 95°F (35°C) lower temperature, have a 30% higher current capacity, a 20% improvement in power efficiency and better overclocking power stability.

Solid CAP
With their aluminum core design, Solid CAP's have been a staple in high-end design mainboard designs and provides lower Equivalent Series Resistance (ESR) as well as its over-10-year lifespan.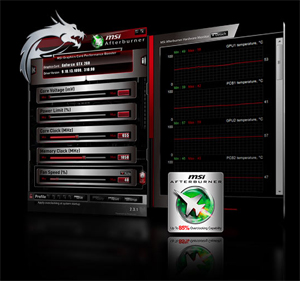 Afterburner
MSI Afterburner is world's favorite the favorite cross-vendor GPU overclocking tool. The easy interface gives access to the most detailed information about your graphics card and allows for tinkering with pretty much anything available on your graphics card.
Compatible with 64-bit Apps, available in many languages, including, Russian, Spanish, Chinese and Korean and completely customizable with many user-generated skins, everyone feels at home.
You can also run Afterburner on your iOS or Android smartphone and the built-in benchmarking utility Kombustor gives you insight in your Graphics Cards' true performance.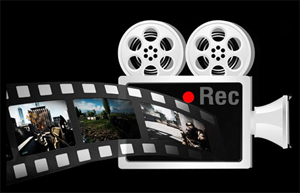 Predator
A built-in screen and video capturing tool named Predator which captures your screen as still images or videos with the push of a button and allows you to capture and record your coolest, goofiest and most awesome gaming moments on your PC!
Choosing a selection results in a full page refresh.