Amd Firepro W7100 100-505724 8Gb 256-Bit Gddr5 Pci Express 3.0 X16 Full Height/Full Length Single-Slot Workstation Video Card
SKU: 100-505724
Regular price
Sale price
$805.00
Unit price
per
Sale
Sold out
Description :
FirePro W7100
8GB GDDR5
PCI Express 3.0 x16
AD FirePro W7100 Graphics Workstation Video Card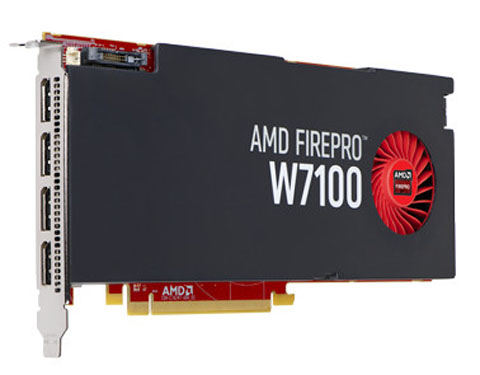 AMD FirePro W7100 professional graphics is meticulously designed to accelerate high-end workflows for design, engineering, and media and entertainment professionals.
As the first single slot workstation solution with 8GB of GPU memory, it's loaded with HD multimedia engines, boasts 4K multidisplay capabilities & improved geometry performance, and has an array of special features and technologies – DirectGMA, Double Rate GeometryBoost, and AMD Eyefinity etc., delivering exceptional performance. Now, users can swiftly elevate projects to new heights.
HIGHLIGHTS
Improved Geometry Performance
AMD FirePro W7100 graphics features double rate GeometryBoost, which is enabled in the AMD Graphics Core Next architecture. The W7100 GPU comes with four graphics engines that allow it to process four primitives per clock cycle – twice as much as the AMD FirePro W7000 GPU that's only capable of two triangles per clock cycle – and provides ultra-high geometry processing performance, enabling the smooth manipulation of complex models.
Lightning-Fast Multimedia Performance
Unlike its predecessor, the AMD FirePro W7100 graphics card features Ultra HD multimedia engines that help to accelerate 4K video playback, editing, and transcoding and enable ultra-fast encode HD (1080p) video encode, up to 12X faster than real-time encoding at 24 FPS.
Next-Generation Display Capabilities
With four DisplayPort outputs, each AMD FirePro W7100 graphics card supports AMD Eyefinity technology and is capable of driving up to four 4K displays, helping users to efficiently multitask across multiple applications and displays. AMD FirePro W7100 cards also support DisplayPort 1.2a and its new Adaptive-Sync feature.
FEATURES & BENEFITS
AMD Graphics Core Next (GCN) Architecture
Efficiently balances compute tasks with 3D workloads, enabling multitasking designed to optimize utilization and maximize performance.
8GB GDDR5 GPU Memory
With a 256-bit memory interface and up to 160 GBps of memory bandwidth, users can edit 4K video, layer in multiple effects and color correct, or load sizeable assemblies and data sets and manipulate them in real time.
DirectGMA (Direct Graphics Memory Access)
Bypasses any need to traverse the host's main memory, reducing CPU utilization and avoiding redundant transfers over PCIe, resulting in high throughput, low-latency data transfers.
Double Rate GeometryBoost
Allows the GPU to process geometry data at a rate of twice per clock cycle. Triangle rates increase twofold relative to a GPU that does not possess GeometryBoost. The GPU on the W7100 cards features four graphics engines that allow it to process four primitives per clock cycle.
AMD Eyefinity Multidisplay Technology
Enables highly immersive and powerful multitasking experiences across multiple displays. Each AMD FirePro W7100 is capable of driving up to four displays at 4K resolutions each.
DisplayPort 1.2a and Adaptive-Sync Support
Simultaneously outputs multiple independent audio streams and display content at resolutions beyond standard HD (maximum resolution of 4096 x 2160). Adaptive-Sync enables AMD FreeSync technology that allows GPU control of display refresh rates for tear-free and jitter-free image quality when rotating models or viewing video content.
Ready for 4K
Equipped with four DisplayPort outputs with DisplayPort 1.2a support and six display engines, the AMD FirePro W7100 can drive up to three 4K displays at 60 Hz or drive up to four 4K displays at 30 Hz.
3.3 TFLOPS of Peak Single Precision Floating Point Performance
Helps speed up time required to complete single precision floating point operations used within Simulations, Video Enhancement, Signal Processing, Video Transcoding, and Digital Rendering applications where high performance takes precedence over extreme accuracy.
OpenCL 2.0
AMD FirePro W7100 cards are designed to support OpenCL 2.0. Tap into the parallel computing power of its GPU and get up to 3.3 TFLOPS of peak single precision compute power to accelerate compute-intensive tasks.
AMD PowerTune Technology
Performs real-time analysis of applications that utilize a GPU. In the event that an application is not making the most of the power available to the GPU, AMD PowerTune technology can improve that application's performance by raising the GPU's clock speed by up to 30% automatically.
AMD ZeroCore Power Technology
AMD ZeroCore Power technology leverages AMD's leadership in notebook power efficiency to grant AMD's desktop GPUs the ability to power down when your monitor is off, also known as the "long idle state."
Choosing a selection results in a full page refresh.