Thermaltake Cl-F059-Pl12Sw-A Riing Plus 12 Led Rgb Radiator Fan Tt Premium Edition (Single Fan Pack)
SKU: CL-F059-PL12SW-A
Regular price
Sale price
$34.99
Unit price
per
Sale
Sold out
Description :
120mm
500 ~ 1400 RPM 48.34 CFM
Hydraulic
24.7 dB-A
Riing Plus 12 TT Premium Edition (Single Fan Pack)
Combining the patented gorgeous RGB light with cutting-edge thermal technologies, Thermaltake Riing Plus 12 is a 120 mm case fan built to deliver a new level of PC cooling. It features up to 16.8 million color options for the 12 addressable LEDs within the ring, which can be controlled via TT RGB PLUS software available for desktop, IOS and Android. The hydraulic bearing and anti-vibration pads make the fan operate with optimal thermal efficiency and minimum noise.
* Digital lighting controller is not included.
* Only compatible with Riing Plus digital lighting controller.
Hydraulic Bearing with Low-Noise Design
The hydraulic bearing self-lubricates with a high-quality, friction-reducing substance, which lowers operation noise while improving thermal efficiency. The seal cap prevents lubricant leakage and extends the lifespan of the unit.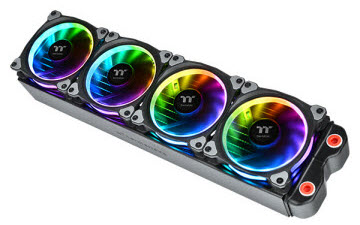 Anti-Vibration Mounting System
In-mold injection anti-vibration rubber pads provide a hassle-free usage with 80% protection coverage for all corners.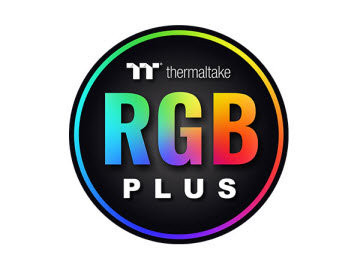 TT RGB PLUS
TT RGB PLUS Ecosystem is the intelligent lighting system for PCs that combines the most advanced addressable LED lighting with Thermaltake's patented TT RGB PLUS Software. TT RGB PLUS ecosystem provides nearly unlimited possibilities for playing with colors, synchronizing lights to games, music, CPU temperatures or other TT RGB PLUS products, including case fans, CPU/VGA waterblocks, AIO CPU coolers, PSUs, LED strips and peripherals. The patented software allows users to change the light modes, colors, speeds, brightness, fan speeds, and even supports AI voice control in iOS and Android devices.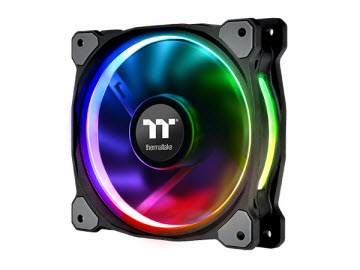 Patented LED Design
Featuring 12 addressable LEDs, great light coverage, and uniform color and brightness, the built-in LED ring can paint your build with 16.8 million colors.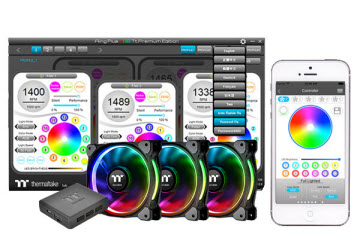 Patented TT RGB PLUS Software & App*
Monitor the fan performance, adjust the fan speeds, and customize the lighting effects for Thermaltake Plus RGB liquid cooling products with the patented TT RGB PLUS Software and an exclusively designed mobile app.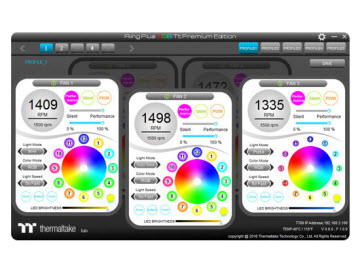 Profiles
Conveniently control all devices and customize the lights at the same time by setting up to five profiles for each controller. Each controller your system connected is displayed at the top left of the interface for you to quickly access. Within each profile, you can check which device is set to what operating mode and lighting effect. You can even "SAVE" and apply the settings to other controllers your system is running.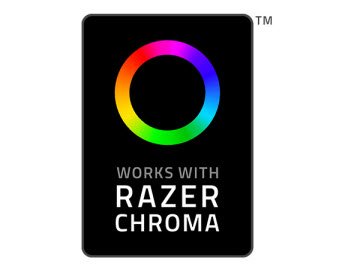 Sync with Razer Chroma Lighting
All Thermaltake TT RGB PLUS products are able to connect into the Razer Chroma ecosystem. Users who have installed both the TT RGB PLUS Software and Razer Synapse 3 can experience synchronized gaming and RGB lighting effects on their TT RGB PLUS liquid cooling system and gaming gear! From cooldown timers, health bars, and flashy ultimate indicators, to subtle ambient lighting that sets the perfect mood for each game, Razer Chroma provides an experience that transcends the screen and into your full setup, for a truly immersive experience.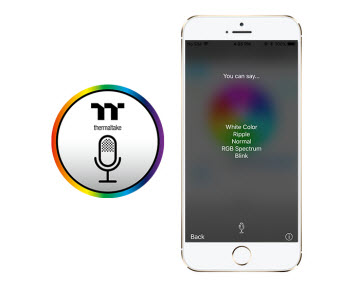 Thermaltake AI Voice Control
Talking to TT RGB PLUS App is an easier, faster way to set lights for your systems. You can ask it to turn the lights on or off, switch lights modes, dim the lights, change light colors, or adjust lights speeds or fan speeds.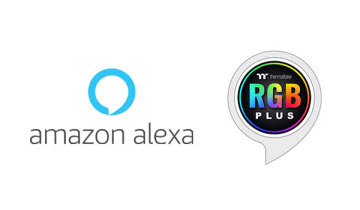 Works with Amazon Alexa
All Thermaltake TT RGB PLUS products support Amazon Alexa Voice Service, allowing you to control the lights or fan speeds by talking to the Alexa-enabled device. With the support of Amazon Alexa, TT RGB PLUS products also offer an additional visual cue for checking current weather condition in your location or anywhere in the world. All you have to do is simply starting the sentence with "Alexa, tell Thermaltake", then the lighting color will correspond to the weather condition in the location.
Notes:
* Compatibility:
- For desktop: Requires TT RGB PLUS Software 1.1.5 version or later.
- For iOS: Requires iOS 10.0 or later.
- For Android: Requires Android 6.0.0 or later with screen resolution 1920 x 1080.
Choosing a selection results in a full page refresh.