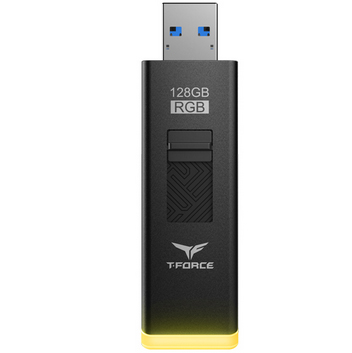 SPARK RGB USB3.2 FLASH DRIVE
128GB
---
Features
RGB soft ambient lighting effect
Smart capacity status indicator
Support multi-platform
Easy-Slide! Capless design
Taiwan Utility PATENT(number: M583608)
Chinese Utility PATENT(number: CN 209674876 U)
RGB lighting effect. The new element of gaming
The colorful RGB lighting effects of T-FORCE SPARK is gorgeous and won't dazzle your eyes, adding a new element into the gaming style.

Smart capacity status indicator
When connecting to PC, it will flash in blue, orange, and red light to indicate the current capacity status at low, medium and high capacity. It's a smart reminder and also a practical upgrade.

Support multi-platform. Enrich the colors of your life
No longer limited to PCs, it supports various gaming consoles, such as PS4™, PS3™, Xbox One™ and Xbox 360®. Let RGB lighting enrich the colors of your life.

Easy-Slide! Capless design
Slide USB connector design is not only easy to slide it with one hand, but it can also avoid the problem of losing the cap.