SKU:TM8FP7002T0C311
Regular price
Sale price
$461.99
Unit price
per
Sale
Sold out
View full details
Description :
M.2 NVMe PCIe Gen4 x4 solid state drive
Supports the latest platform AMD X570
Excellent performance - Read speed is up to 5,000 MB/s
Enhances the speed and performance of the overall system
Three heat dissipation elements - the combination of graphene and copper can provide excellent heat dissipation. 0.2mm ultra-thin and patented cooling module can avoid interference during installation
Multiple protection, smart management technology - effectively monitors the status of solid state drive and maximizes its performance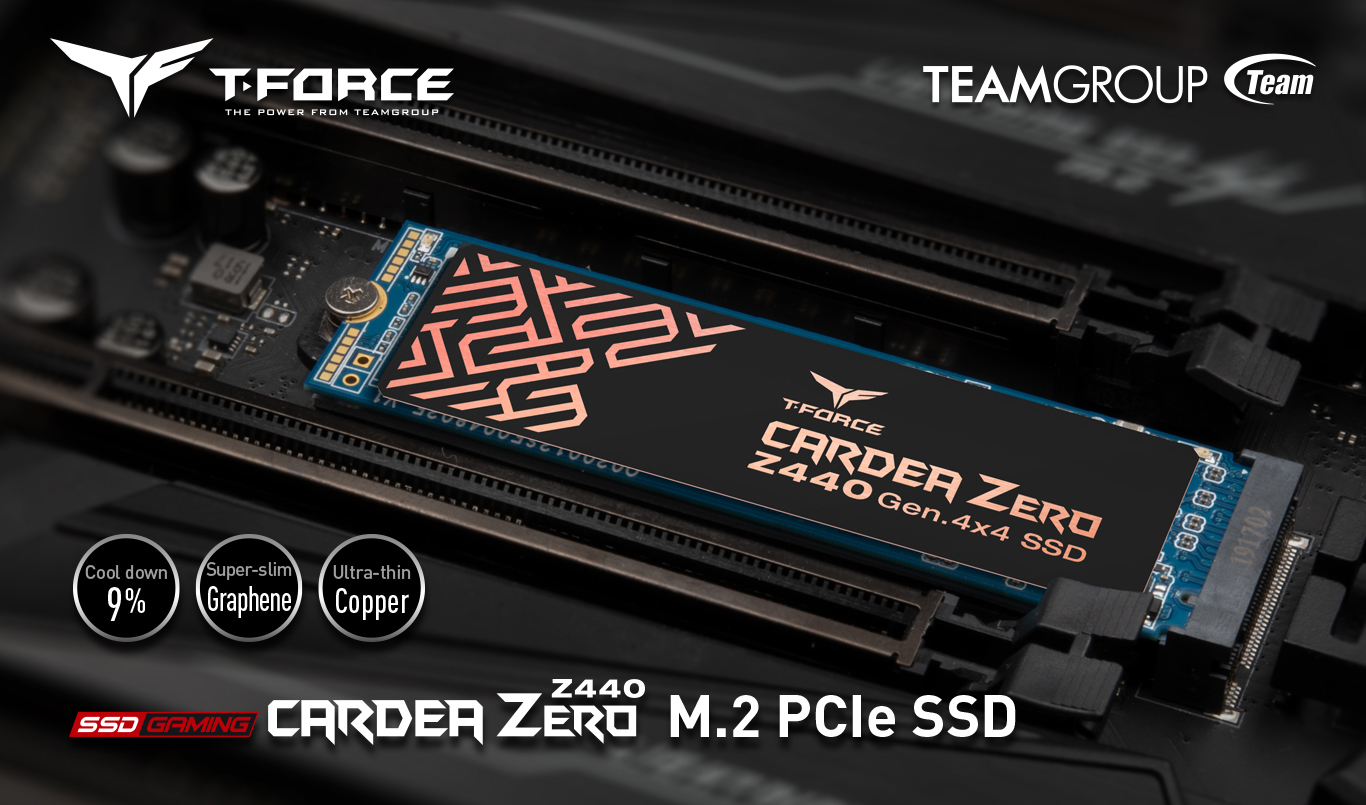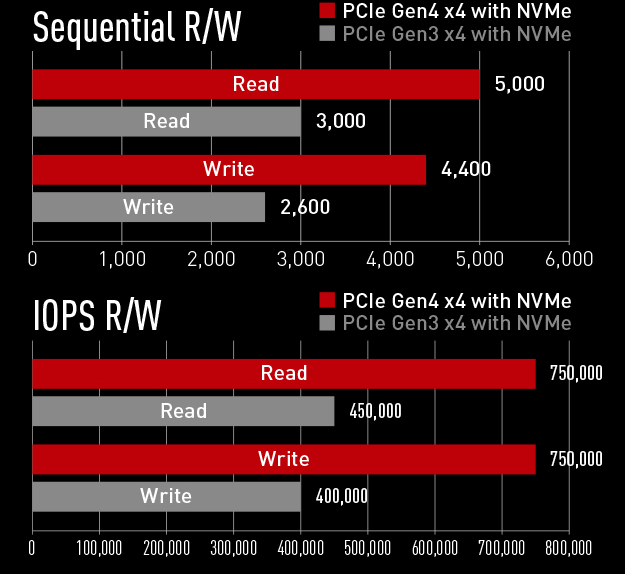 RELEASING THE ULTIMATE PERFORMANCE
The T-FORCE CARDEA ZERO Z440 M.2 NVMe PCIe SSD uses the PCIe Gen4 x4 interface and complies with the NVMe 1.3 standard. The sequential read/write speed can reach up to 5,000/4,400 MB/s.[1] Less than 0.2mm thick, the patented graphene copper foil thermal conductive material can effectively eliminate devices interference during installation. It can be installed on all major motherboard and M.2 slots.
[1] The performance result is tested on a motherboard that supports PCIe 4.0 interface by the T-FORCE internal laboratory. The actual speed may vary depending on the software and hardware conditions of the platform.
CAPACITY AND PERFORMANCE PROGRESS GREATLY
T-FORCE CARDEA ZERO Z440 SSD uses 3D flash memory which is stacked in a three-dimensional way to offer up to 1TB/2TB of large storage. As for the speed improvement, it is nearly 10 times faster than SATA SSD, and nearly 1.65 times faster than the M.2 PCIe Gen3 x4 SSD. In addition, it is completely downward compatible with the current PCIe 3.0 platform, improving gamers' performance for gaming and daily work.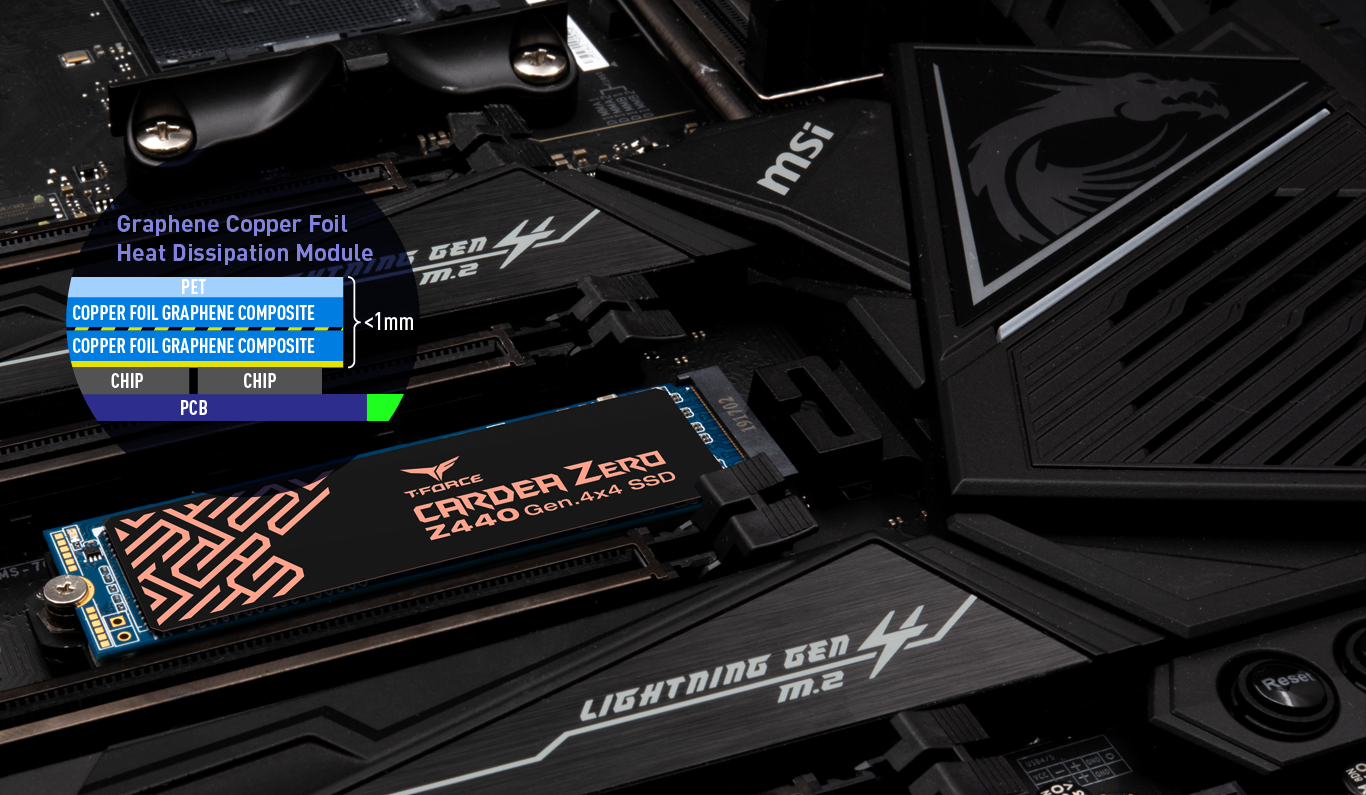 TRANSFER HEAT SOURCE EFFECTIVELY
These products use graphene copper foil heat spreaders. The well-proportioned design of each SSD completely fits with the covered heat sink fan set of an X570 motherboard. Moreover, the cooling module on this motherboard can enhance the CARDEA ZERO Z440's heat dissipation. Even without the cooling module of the motherboard, it can still transfer heat sources effectively, showing excellent heat dissipation capability and allowing gamers to enjoy high-speed performance.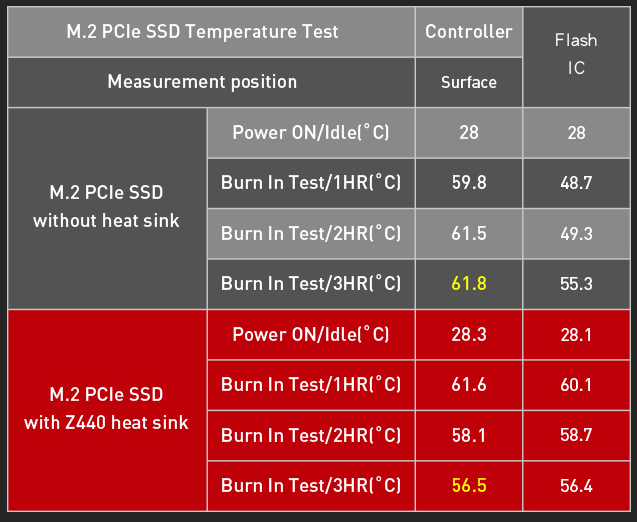 PROVIDE EXCELLENT HEAT DISSIPATION
After T-FORCE's long and rigorous internal laboratory tests and burn-in test, the patented graphene copper foil thermal conductive material on T-FORCE CARDEA ZERO Z440 SSD has been developed and is able to provide more than 9%[2] of cooling effect during actual continuous reading/writing for over 3 hours. Thermal conduction (graphene), thermal radiation (graphene) and thermal capacity (copper), these three elements can perfectly showcase an excellent heat dissipation performance.
[2] The experimental data is based on T-FORCE internal laboratory's test result. Under the same condition, the temperature test data is according to the comparison of the non-heat spreader M.2 PCIe Gen4 x4 SSD and the T-FORCE CARDEA ZERO Z440 SSD. The relevant test environment is simulated under a fanless environment using mask. The actual speed may vary depending on the software and hardware conditions of the platform..
SMART MANAGEMENT TECHNOLOGY
T-FORCE CARDEA ZERO Z440 SSD supports S.M.A.R.T function and its built-in smart algorithm management mechanism has functions such as GC (garbage collection), TRIM command, LDPC (Low Density Parity Check Code) error correction mechanism, E2E Data Protection, etc. which are able to help in operation efficiency, prolong the service life of the SSD, while also allowing gamers to ensure data security, maximize its performance and the stability of data transfer.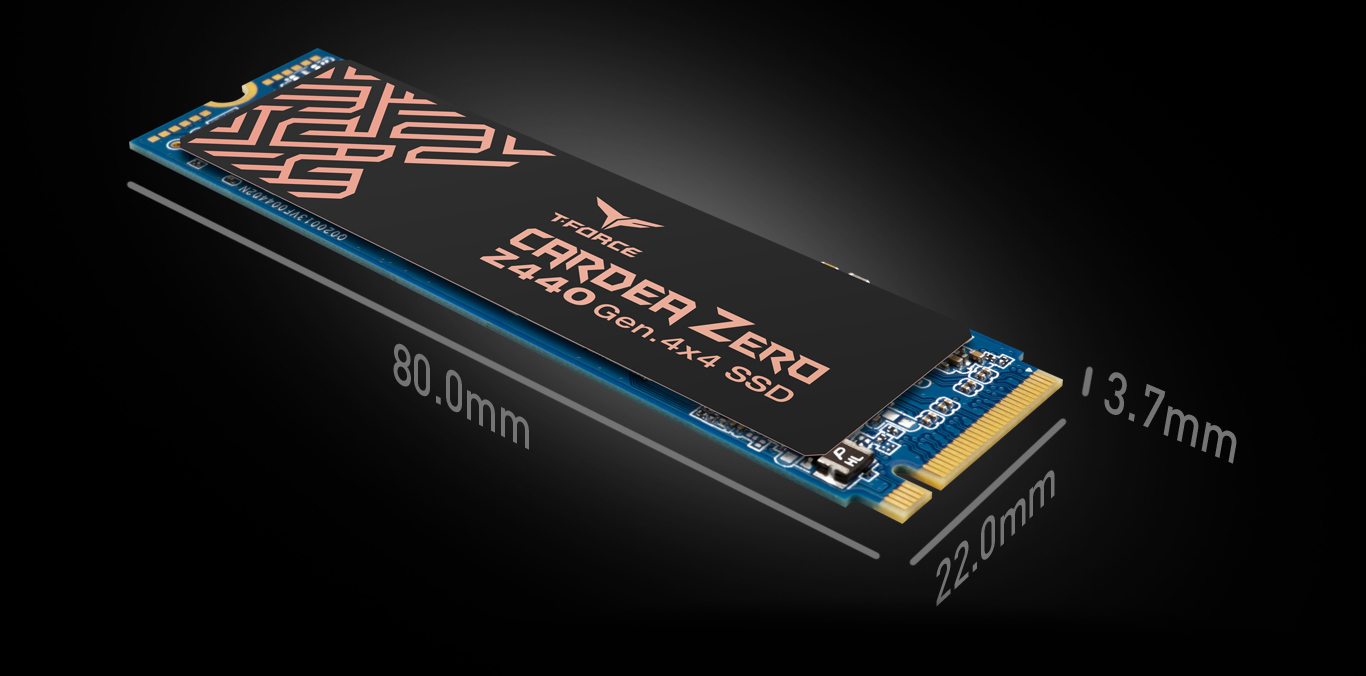 Specifications
Interface
PCIe Gen4 x4 with NVMe 1.3
Capacity
1TB/2TB[1]
Voltage
DC +3.3V
Operation Temperature
0℃~70℃
Storage Temperature
-40℃~85℃
Terabyte Written
1TB/ >1,800TB
2TB/ >3,600TB[2]
Performance
Crystal Disk Mark:
1TB Read/Write: up to 5,000/4,400 MB/s
2TB Read/Write: up to 5,000/4,400 MB/s[3]
IOPS:
1TB Read/Write: 750K/750K IOPS Max
2TB Read/Write: 750K/750K IOPS Max[3]
Weight
9g
Dimensions
80.0(L) x 22.0(W) x 3.7(H) mm
Humidity
RH 90% under 40°C (operational)
Vibration
80Hz~2,000Hz/20G
Shock
1.500G/0.5ms
MTBF
1,700,000 hours
Operating System
System Requirements:


Windows 10 / 8.1 / 8 / 7 / Vista[4]
Linux 2.6.33 or later

Warranty
5-year limited warranty[5]
[1] 1GB=1,000,000,000 Bytes. In OS system, it would be displayed as 1,000.000,000 Bytes/1024/1024/1024= 0.93GB
[2] Definition and conditions of TBW (Terabytes Written) are based on JEDEC standard
[3] Transmission speed will vary according to different hardware/software conditions, therefore the data can only use for basic reference.
[4] PCIe SSD works best under WIN8.1 and WIN 10 operating system. Windows Operating Systems earlier than Windows 8.1 does not support NVMe Driver natively. Users will need to install NVMe Driver prior installing the SSD.
[5] The SSD is based on the TBW or Warranty period.
*All test data is provided by TEAMGROUP's laboratory and the information of test data is onty for reference. We reserve the right to modify product specifications without prior notice.

T-FORCE is TEAM force. The red "T" represents TEAMGROUP's passion for the storage products. The black "F" represents TEAMGROUP's over 18 years of dedication to storage products. Since we released T-FORCE gaming product line in 2016, we have won multiple product design awards, for example, iF design award, Computex d&i award, Golden Pin design award and Taiwan Excellence. The high quality and extreme performance gaming products from TEAMGROUP allow all gamers to break the speed limit and enjoy the ever-changing world of gaming.

Choosing a selection results in a full page refresh.
Opens in a new window.