Pny Quadro K1200 Vcqk1200Dp-Pb 4Gb 128-Bit Gddr5 Pci Express 2.0 Atx Or Sff Workstation Video Card For Displayport
SKU: VCQK1200DP-PB
Regular price
Sale price
$561.94
Unit price
per
Sale
Sold out
Description :
Quadro K1200 for ATX or SFF systems
4GB GDDR5
PCI Express 2.0 x16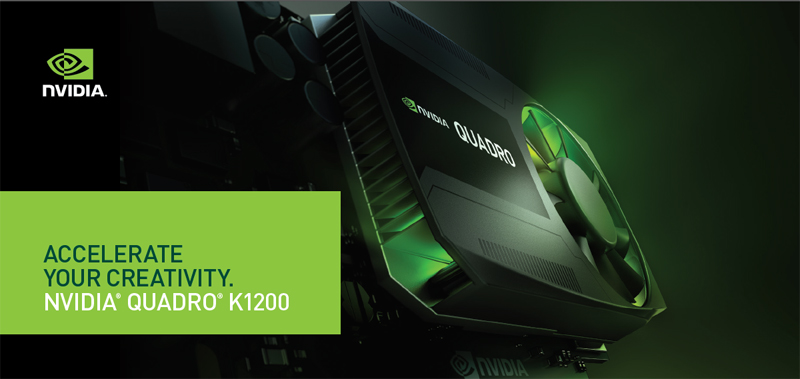 NVIDIA Quadro K1200 - Incredible 3D application performance in a flexible form factor. Now included in the box, a full-height bracket lets this single-slot and low-profile board fit into any full-height (ATX) desktop, mid-tower, or desk side tower enclosure. The Quadro K1200 is the perfect choice for Manufacturing or Media & Entertainment professionals who are transitioning to 4K applications, workflows, and photorealistic HDR (High Dynamic Range) rendering enabled by NVIDIA Iray. 512 CUDA cores and 4 GB of GDDR5 GPU memory with fast bandwidth enables the creation of large, complex 3D models, and an all-new display engine drives up to four displays natively with DisplayPort 1.2 support for true 4K resolutions like 3840 x 2160 at 60 Hz with 30-bit color.
Designed and built specifically for professional workstations, NVIDIA Quadro GPUs power more than 100+ professional applications across a broad range of industries including manufacturing, media and entertainment, sciences, and energy. Professionals trust them to realize their most ambitious visions - whether its product design, visualization and simulation, or spectacular visual storytelling - and get results to market faster.
3D Graphics Architecture
Scalable geometry architecture
Hardware tessellation engine
FXAA/TXAA dedicated anti-aliasing engine
Bindless Textures
Shader Model 5.0 (OpenGL 4.52 and DirectX 12)
Up to 16K x16K texture and render processing
Transparent multisampling and super sampling
16x angle independent anisotropic filtering
32-bit per-component floating point texture filtering and blending
Up to 64x full scene antialiasing (FSAA)
Decode acceleration for MPEG-2, MPEG-4 Part 2 Advanced Simple Profile, H.264, MVC, VC1, DivX (version 3.11 and later), and Flash (10.1 and later)
Blu-ray dual-stream hardware acceleration (supporting HD picture-in-picture playback)
NVIDIA GPU Boost (Automatically increases GPU engine throughput to maximize application performance.)
Parallel Computing Capabilities
Streaming Multi-Processor Design (SM 5.0) delivers high performance and energy efficiency
Support for all the latest CUDA features, including Unified Memory, Dynamic Parallelism and Dedicated Shared Memory
Programming support for CUDA C, CUDA C++, DirectCompute 5.0, OpenCL, Python, and Fortran
Advanced Display Features
Simultaneously drive up to four displays when connected natively
Support up to four displays when using DisplayPort 1.2 Multi-Stream
Quad DisplayPort 1.2 (supporting resolutions up to 4096x2160 @60 Hz)
Optional DisplayPort to VGA, DisplayPort to DVI (single-link and dual-link) and DisplayPort to HDMI cables (resolution support based on dongle specifications)
HDCP support over DisplayPort, DVI and HDMI connectors
12-bit internal display pipeline (hardware support for 12-bit scanout on supported panels, applications and connection)
Stereoscopic 3D display support including NVIDIA 3D Vision™ technology, 3D DLP, Interleaved, and passive stereo
OpenGL and Direct3D quad buffered stereo support
Underscan/overscan compensation and hardware scaling
Support for NVIDIA Quadro Mosaic, NVIDIA nView multi-display technology, NVIDIA Enterprise Management Tools
Display Port and HDMI Digital Audio
Support for the following audio modes: Dolby Digital (AC3), DTS 5.1, Multichannel (7.1) LPCM, Dolby Digital Plus (DD+), and MPEG-2/MPEG-4 AAC
Data rates of 44.1 KHz, 48 KHz, 88.2 KHz, 96 KHz, 176 KHz(HDMI only), and 192 KHz (HDMI only)
Word sizes of 16 bits, 20 bits, and 24 bits
Choosing a selection results in a full page refresh.