5-year Manufacturer Limited Warranty
Standard model ship in 512e format, support either 512e or 4Kn Fast Format logical sector size
Helium sealed-drive design delivers lower total cost of ownership through lower power and weight
Digital environmental sensors to monitor internal drive conditions for optimal operation and performance
Proven enterprise-class reliability backed by a 2.5M-hr MTBF rating
For Enterprise Storage

Seagate Exos X16 enterprise hard drive
With massive capacity and innovative technology advancements, this Exos X16 enterprise hard drive is engineered to address the needs of the hyperscale storage market. The helium sealed drive design replaces air with helium inside the drive, to reduce air turbulence and allow more platters to fit in the same 3.5" form factor. Boasting SATA 6 Gbps host interface, 7200 RPM spinning speed, and 256 MB Cache, this 14 TB drive delivers Max. sustained transfer rate of 261 MB/s. And capable of 24x7 operation, the Seagate Exos X16 is a perfect high-reliability solution for servers, storage systems, and business-centric NAS systems.
High performance hard drive with enhanced caching, making it perfect for cloud data center and massive scale-out data center applications
Hyperscale SATA model tuned for large data transfers and low latency
PowerBalance feature optimizes Watts/TB
Helium sealed-drive design delivers lower total cost of ownership through lower power and weight
Next-generation helium side-sealing weld technology for added handling robustness and leak protection
Digital environmental sensors to monitor internal drive conditions for optimal operation and performance
Data protection and security: Seagate Secure. features for safe, affordable, fast, and easy drive retirement
Proven enterprise-class reliability backed by 5-year limited warranty and 2.5M-hr MTBF rating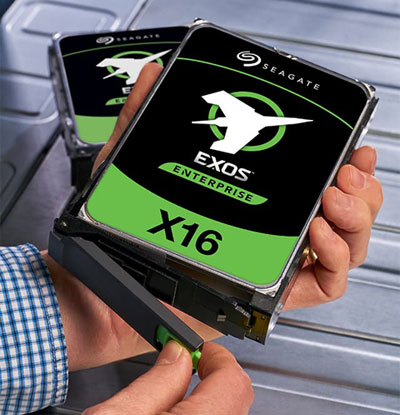 Best-Fit Applications
Hyperscale applications/cloud data centers
Massive scale-out data centers
Big data applications
High-capacity density RAID storage
Mainstream enterprise external storage arrays
Distributed file systems, including Hadoop and Ceph
Enterprise backup and restore—D2D, virtual tape
Centralized surveillance
QUESTIONS & ANSWERS
Have a Question?
Be the first to ask a question about this.
Ask a Question