SKU:TUF706HEB-DB74
Regular price
Sale price
$1,385.77
Unit price
per
Sale
Sold out
View full details
Description :
NVIDIA GeForce RTX 3050 Ti 4GB GDDR6 Graphics up to 1585MHz at 60W (75W with Dynamic Boost 2.0)
11th Gen Intel Core i7-11800H Processor (24M Cache, up to 4.6 GHz, 8 Cores)
17.3" 144Hz FHD (1920 x 1080) IPS-Type display
512GB PCIe NVMe M.2 SSD, 16GB DDR4 3200MHz RAM, Windows 10 Home
Durable MIL-STD-810H military standard construction
Self-cleaning dual fans with anti-dust technology to extend system longevity
RGB backlit keyboard rated for 20-million keystroke durability
Easy Upgrade Doors: Easily add or replace memory and storage, Wi-Fi 6 (802.11ax)
Bundle: Get 30 days of Xbox Game Pass for PC with purchase (*Active subscription required; continues until cancelled; game catalog varies over time. Requires Windows 10; see details at xbox.com/pcgamesplan)
*The Windows 11 upgrade will be delivered to qualifying devices late 2021 into 2022. Timing varies by device. Certain features require additional hardware (see aka.ms/windows11-spec)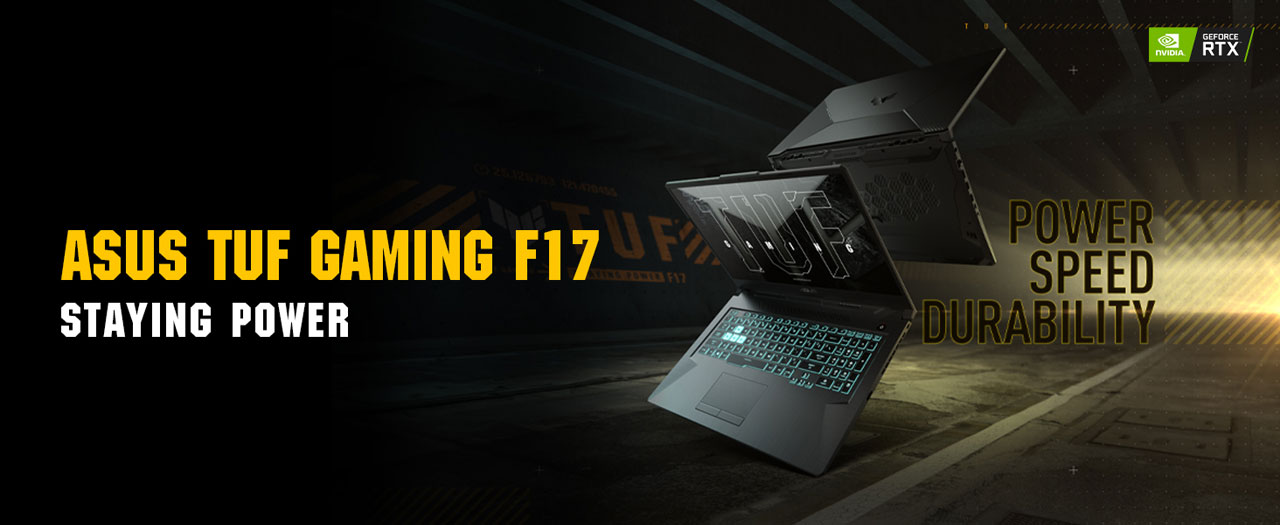 ASUS TUF Gaming F17
STAYING POWER
The latest CPU & GPU, a massive 17.3" FHD display with high refresh rate, super-efficient cooling and long-lasting battery make the TUF Gaming F17 an awesome laptop for awesome gaming, streaming, creation, and more. It's is also built tough, just as the TUF name suggests, to withstand the rigors and accidents of everyday life.
DESIGN
STUN WITH STYLE
Personalize your experience with sleek Eclipse Gray or bold Graphite Black color options. A textured honeycomb design on the base adds grip and echoes the hexagon reinforcements around the chassis. Hairline brush strokes accent the palm area, adding a subtle texture that looks professional and clean.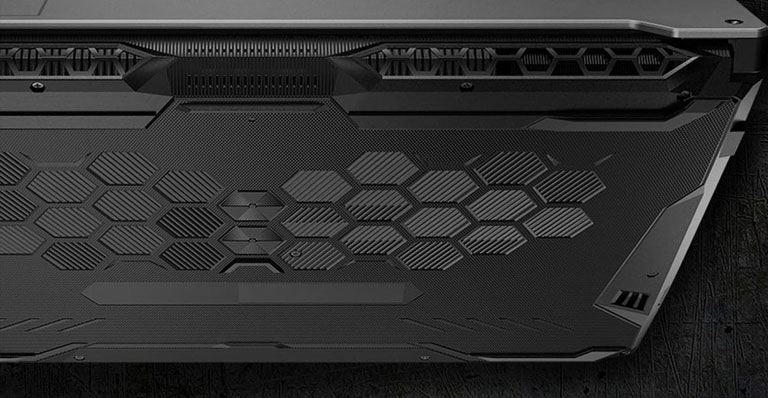 Honeycomb Grip
Textured honeycomb grip coats the bottom of the chassis. Strategic cuts double as cooling vents.
Smart and Striking
Bold Graphite Black and sleek Eclipse Gray tints show off your personality.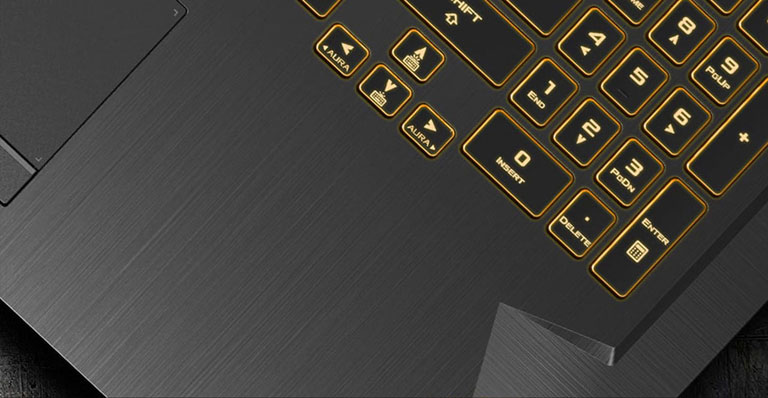 Brushed Metal Finish
Contrasting hairline brushstrokes across the chassis are clean-cut and sleek.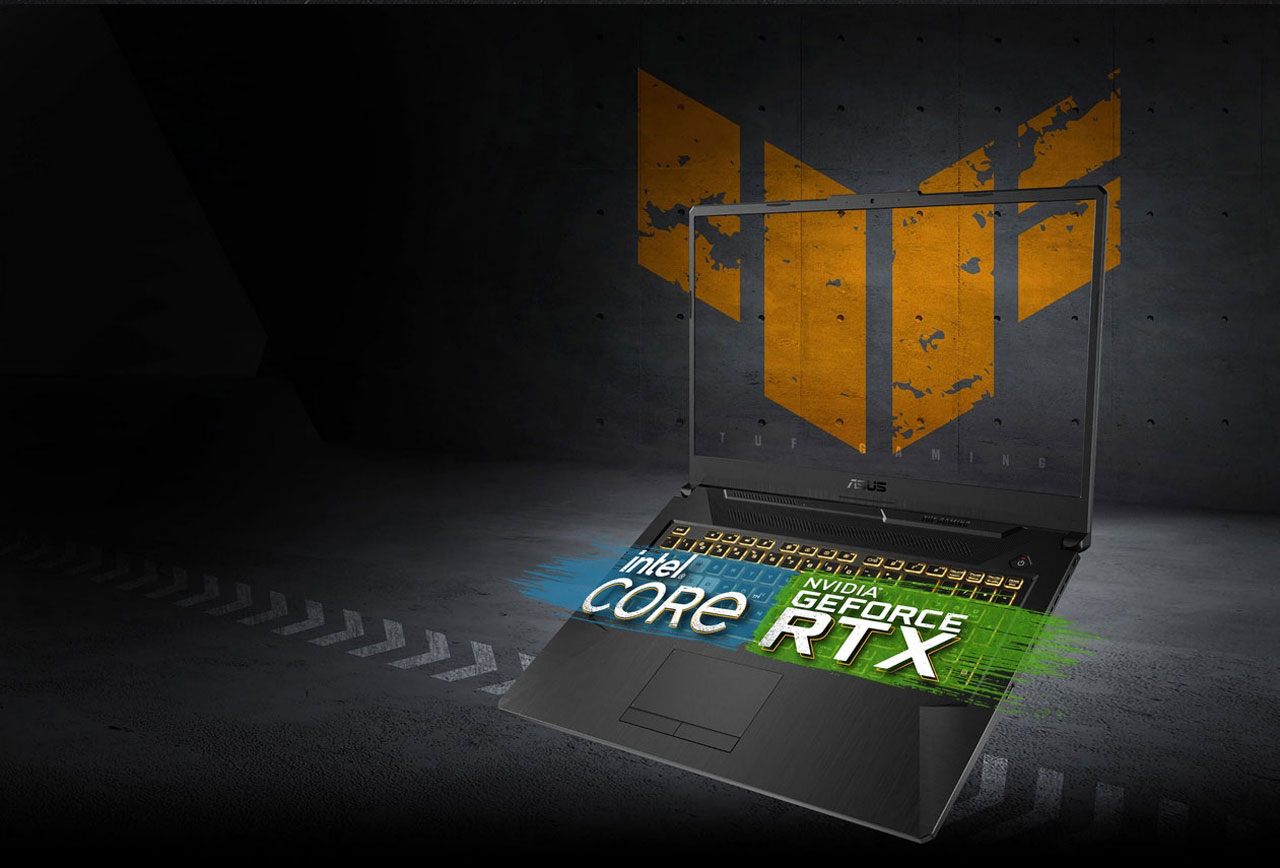 PERFORMANCE
TAKE ON ANY CHALLENGE
Always ready for action, the TUF Gaming F17 excels at gaming, streaming, and everything in between. Harness serious power for demanding tasks with up to an 8-core, 16-thread Intel® Core i9-11900H CPU. Gameplay graphics are smooth with the latest GeForce RTX 3060 GPU which reliably delivers high frame rates for a ton of modern games. A superfast NVMe PCIe® SSD up to 1TB speeds up load times, while an open SSD slot makes it easy to add terabytes more space for all your games.
Visuals
SPEED TO VICTORY
Game at pro-speed with a fast, IPS-level panel up to 144Hz. With Adaptive-Sync, the display's refresh rate synchronizes with the GPU's frame rate to reduce lag, minimize stuttering, and eliminate visual tearing for ultra-smooth and immersive gameplay. Ultrafast Thunderbolt 4 lets you connect conveniently on the fly, like powerful external GPUs or external monitors that level up your multitasking power. Play 4K Ultra HD movies, videos, and games on big-screen TVs with HDMI 2.0b.

Audio
CRYSTAL CLEAR AUDIO
Two speakers with four cut-outs are loud and powerful, enabling deeper audio immersion. DTS:X Ultra delivers high-fidelity audio for clear, precise sound. Virtual 7.1-channel surround sound enhances spatial awareness in-game to help you get the drop on enemies. Up to 8 preset modes for music, movies, and gaming genres optimize your experience further, on top of the built-in equalizer that lets you fine-tune your settings at will.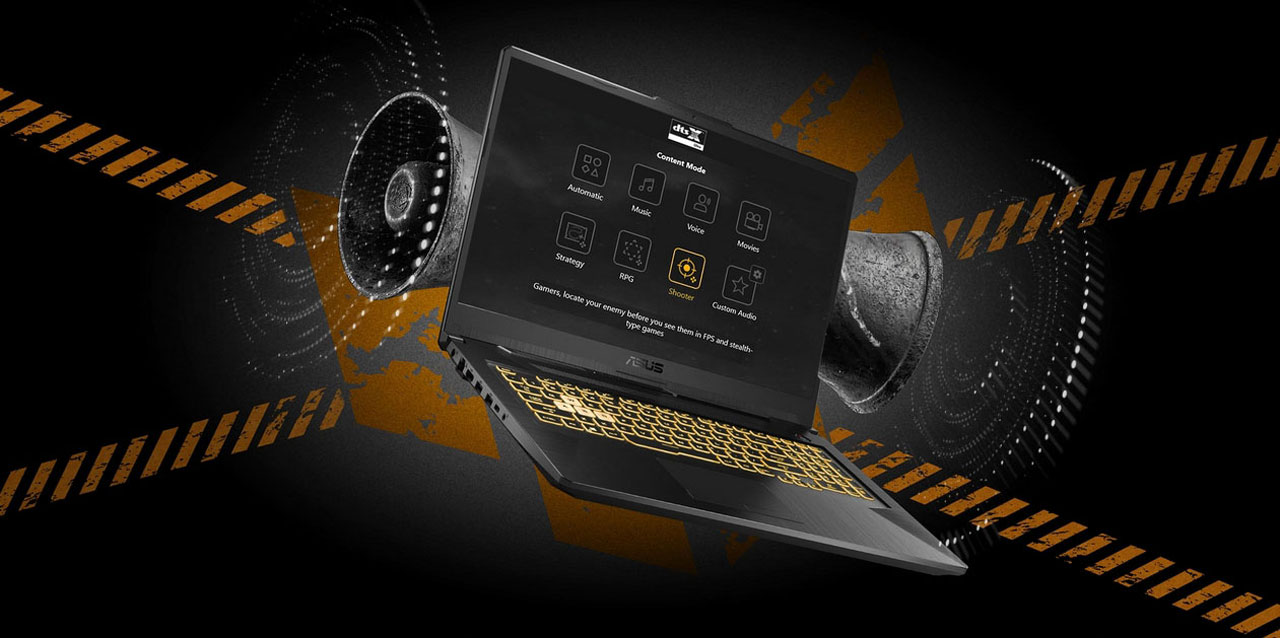 Thermal
LASTING COOL
Comprehensive cooling sustains long-term system reliability and extends the lifespan of your machine. Four heatpipes and three heatsinks draw heat away from your hardware and dissipates it quickly, keeping component temperatures at optimum levels. A self-cleaning cooling design ensures that your cooling system stays debris-free for full functionality for the long haul. Tuned operating modes balance clock speeds and acoustics for the task at hand, customizable to your needs.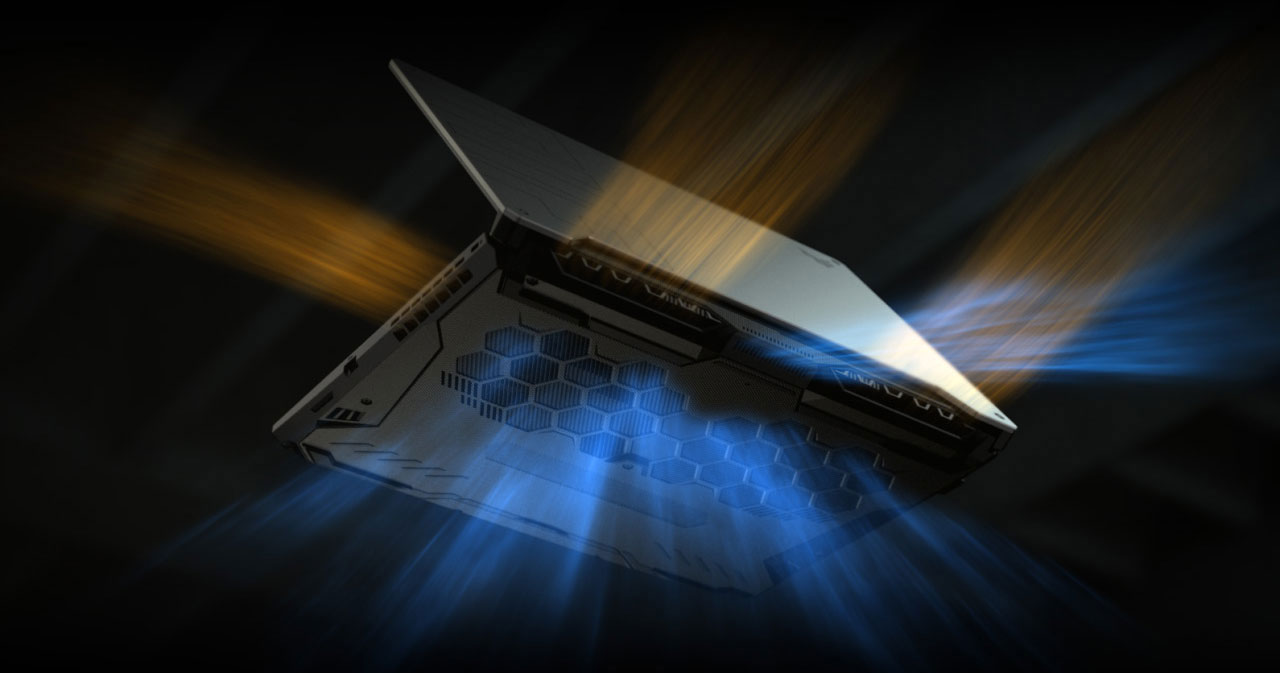 Portability
LIVE LONG AND TRAVEL FAR
No matter where life takes you, keep a reliable ally at your side. Lightweight, portable, and long-lasting, this laptop lets you stay connected anywhere. Its power-efficient Intel® Core processor and formidable 90Wh battery combine to offer up to 14.3 hours of video playback, so you can watch more on the move. Our integrated webcam makes it more convenient to stream and create content on the go. Fast and reliable Wi-Fi 6 (802.11ax) ensures that you'll be able to get online and be productive wherever compatible connections are available.
*Battery life may vary based on system configuration.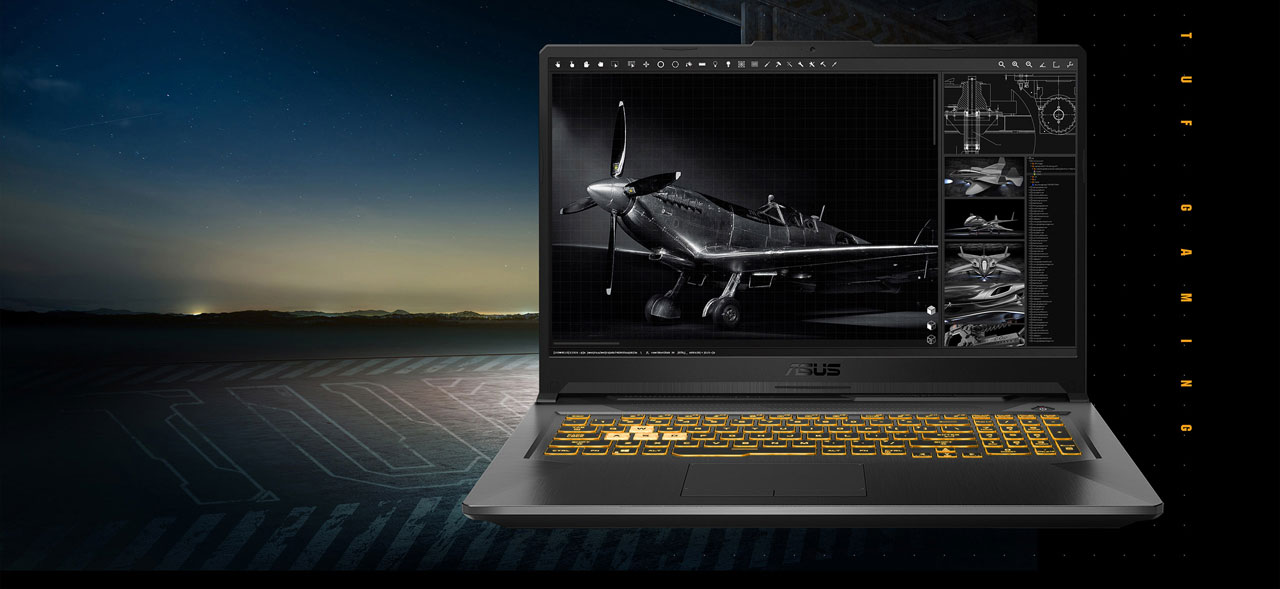 Durability
MILITARY-GRADE TOUGHNESS
In order to earn the TUF Gaming name, these laptops must successfully survive a rigorous battery of MIL-STD-810H tests. Test devices are exposed to drops, vibration, humidity, and extreme temperatures to ensure reliability. Dependable even in the harshest conditions, the F17 is more than capable of withstanding the accidental bumps and knocks of everyday life.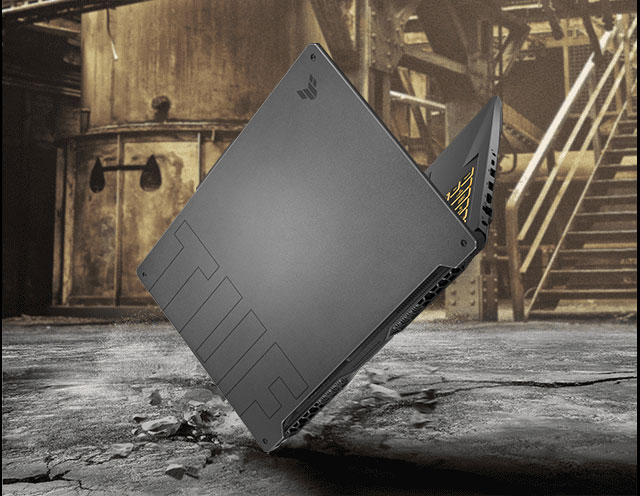 REDUCED FALL DAMAGE
Drop tests ensure every TUF Gaming laptop can resist damage from unexpected falls, knocks, and bumps during shipment and daily use. To meet MIL-STD-810H standards, devices are tested to survive short falls. Slip the F17 into your backpack, sling it over your shoulder, and carry it with you everywhere with less stress and worry.
*Please refer to the shock bench handling test, method 516.8, procedure VI for the exact test conditions.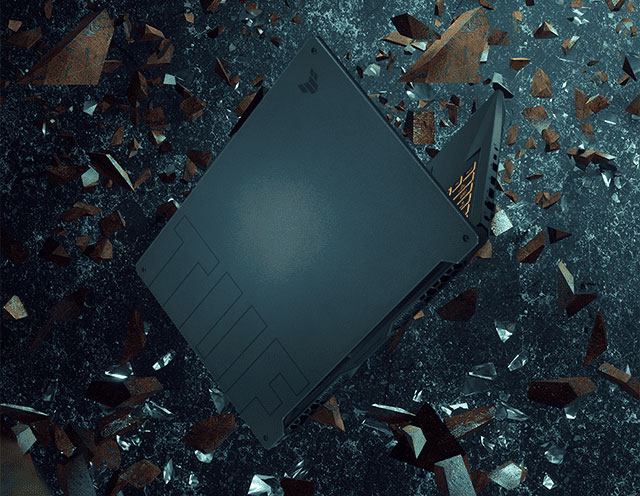 TRAVEL EASY
Any time you carry your device into planes, trains, or cars, it experiences varying levels of vibration that can dislodge or damage internal components. Extensive vibration testing ensures that every part of your TUF Gaming laptop can withstand the rigors of travel without shifting around or losing functionality.
*Please refer to the vibration test, method 514.8 for the exact test conditions.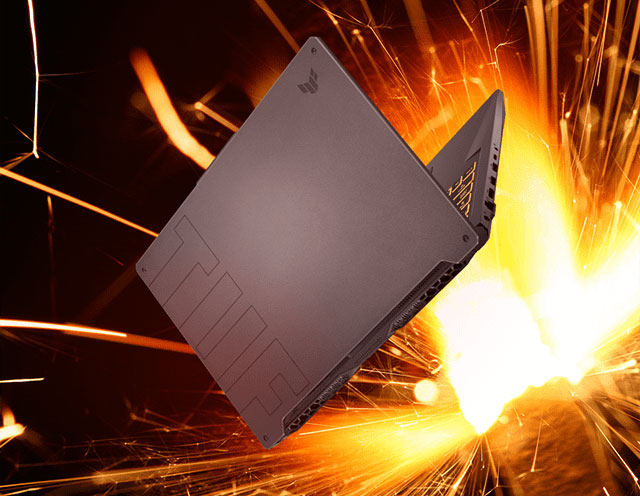 COOL UNDER FIRE
Whether you're trekking out across the desert or sunning at the beach, scorching heat testing ensures that you can always keep your TUF Gaming laptop close at hand. Capable of operating in temperatures up to 49°C for several days at a time, these devices can definitely handle the heat.
*Please refer to the high temperature operational test, method 501.7, procedure II for the exact test conditions.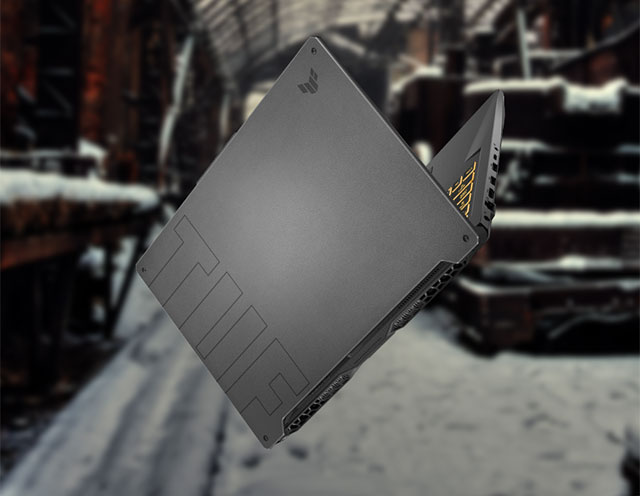 SERIOUS CHILL
Even in biting cold temperatures as low as -32°C, TUF Gaming laptops keep running. This incredible resilience means they can be taken through some of the harshest, freezing environments on the planet and maintain their effectiveness throughout the journey.
*Please refer to the low temperature operational test, method 502.7, procedure II for the exact test conditions.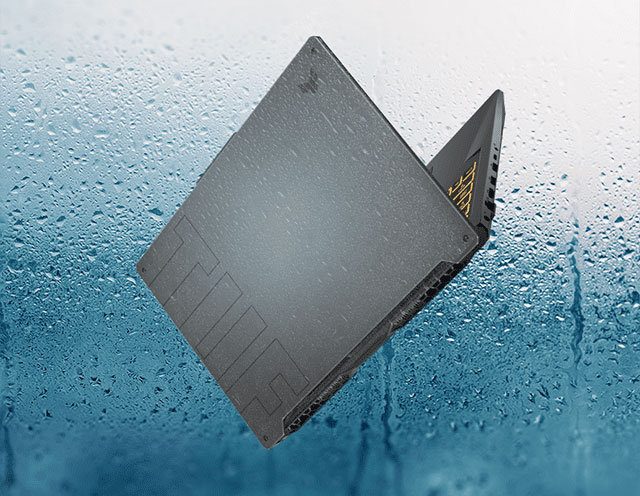 HUMIDITY? NO SWEAT
TUF Gaming laptop chassis are built to withstand humidity of up to 95% for extended periods of time, and come out through the other side with full functionality. Even if you're traveling through tropical climates with harsh and wet conditions, TUF laptops can weather the storm.
*Please refer to the humidity aggravated cycle test, method 507.6, procedure II for the exact test conditions.
Keyboard
OPTIMIZED FOR GAMING
Arm yourself with a desktop-style keyboard optimized for gaming. Uniform RGB backlighting lets you express your own unique style, while highlighted WASD accents give you a visual shortcut to key movement commands. Overstroke technology triggers higher in each keystroke for faster responsiveness and effortless control. In true TUF form, each key is durable enough to withstand over 20 million presses for superb long-term reliability and precision.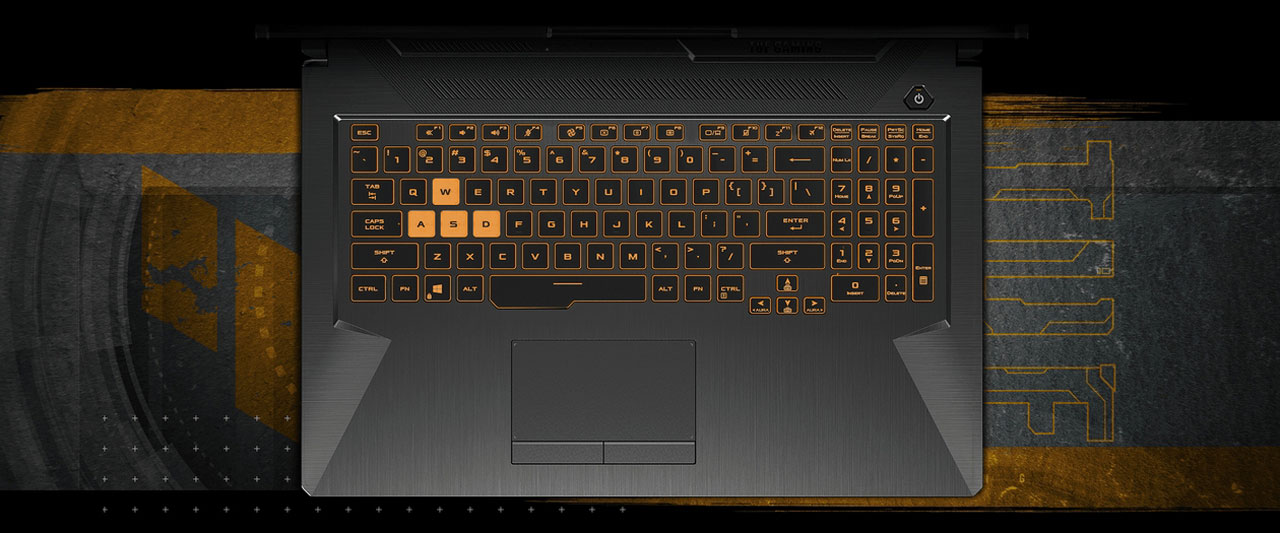 Upgradeability
VERSATILE AND UPGRADEABLE
Keeping your machine ready for modern and future games is easy. An easy-upgrade design makes sizing up your RAM and SSD a breeze. All you need is a screwdriver to access memory slots and storage bays, while a special pop-open screw lifts one side of the panel. The TUF F17 also features Thunderbolt 4 to connect to all the latest devices. Use the bandwidth to hook up an external GPU and amp up your graphics power for gaming or 3D rendering, or connect up to two 4K displays for more efficient multitasking.
*Thunderbolt 4 not supported on FX706HCB/HEB.
Input/Output
COMPREHENSIVE CONNECTIVITY
Lots of I/O ports let you use your favorite devices anywhere. The versatile Thunderbolt 4 port connects to the latest devices and supports DisplayPort 1.4, so you can plug in two 4K displays at 60Hz, or one 8K UHD TV or monitor for immersive visuals. Two USB 3.2 Type-A ports allow for speedy data transfers, with an additional USB 3.2 Type-A port that makes three total inputs for accessories. Bluetooth also lets you also pair mice, headphones, and other compatible devices for a cleaner, wire-free working space. Hop online with 802.11AX (2x2) Wi-Fi for fast and reliable connectivity wherever Wi-Fi is available.
*Thunderbolt 4 not supported on FX706HCB/HEB.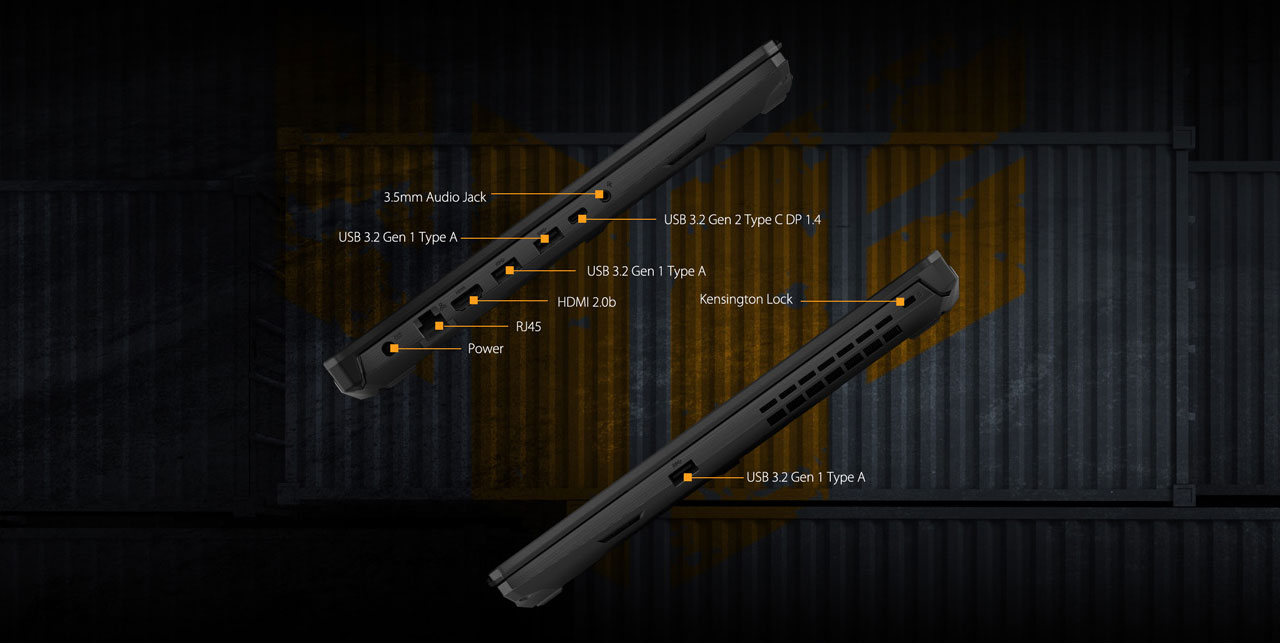 Exclusive Software
UNIFIED SYSTEM TUNING AND PERSONALIZATION
Armoury Crate unifies system and lighting controls to put essential settings at your fingertips in a single utility. Its extensive customization options let you personalize aesthetic effects, fine-tune game profiles, and adjust audio settings to fit your preferences. With Scenario Profiles, you can define and custom preferences that automatically adjust performance and other settings when you launch your favorite apps and games. Take complete control of your experience and make it fully your own.
Choosing a selection results in a full page refresh.
Opens in a new window.